In this 21st century, money can buy you virtually anything in football, but not loyalty. The great irony of stocking a team with expensive players is that they'll leave if someone offers them more money.  Here, Zenox Sports take a look at some of the most notable one-club footballers in the history of European football. For  this ranking  we have taken into consideration the following yardsticks: overall impact, quality on and off the field, longevity, trophies won and legacy.
Lev Yashin [Dynamo Moscow]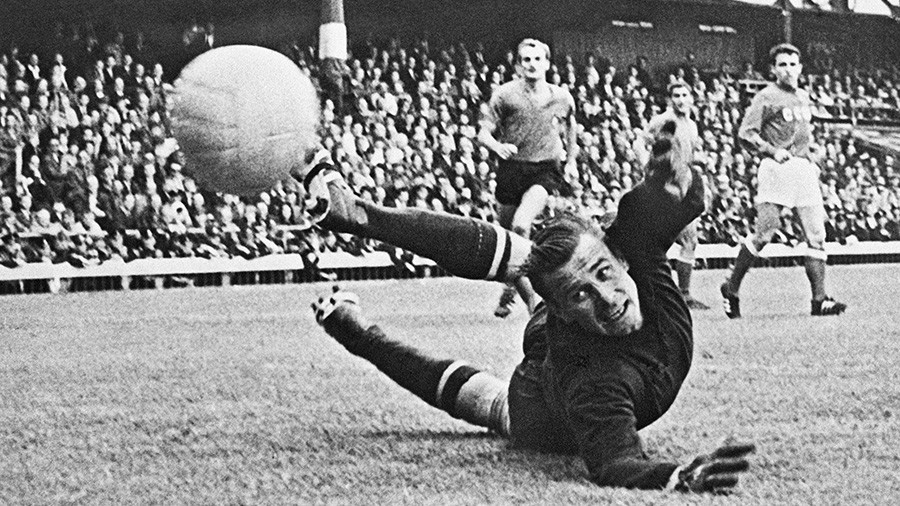 In the world of football, there are very few people who have left the sort of legacy Yashin has. The former Soviet Union shot stopper is a man whose name made it into the Half Man Half Biscuit track '1966 And All That', the award for the best goalkeeper in the World Cup was named after him and the World War II veteran has won countless trophies as well statues erected in his honour in Russia. Yashin won five titles in nine years at Dynamo Moscow and in 1963, conceded six goals in 27 Russian league games en route to winning the Ballon d'Or. He's the only goalkeeper to have won the award.
Giampiero Boniperti [Juventus]
Boniperti is widely regarded as "Mr Juve". The retired Italian footballer scored 182 goals for the Old Lady between 1947 and 1961. This goal scoring record stood for 45 years until Alessandro Del Piero broke it in 2006. Boniperti won five Serie A titles having started as a striker before moving into the midfield. After retiring as a player, he returned as president in 1971 and remained there for 19 years. He oversaw the European Cup success in 1985, UEFA and Cup Winners Cup victories and many more titles as president. He also operated as a managing director with a young Del Piero arriving from Padova during this time.
Sandro Mazzola [Inter Milan]
This is another footballer worthy of emulation in both character and performance. Sandro's father Valentino,  is a former footballer who died in the 1949 Superga disaster. Sandro forged his own career as an Italian great and earned his place in Milano's Hall of Fame. He won four Serie A titles, one European championship, two intercontinental cups and two European Cups during his playing days.  The highlight of his career was when Inter beat Real Madrid in the '64 final, where he scored twice. Mazzola went on to score 160 goals in 565 games as he was key to the club's success during his 17 seasons.
Franco Baresi [AC Milan]  

The name Baresi is synonymous to loyalty in the heart of AC Milan supporters. He became Milan's captain at the age of 22. During Milan's relegation in the early 80s, Baresi stayed as most of the club's player moved on. He became the cornerstone of the team that won almost every available trophy in the latter part of the decade and early 90s. He anchored the defence that conceded just 14 times when Milan won the league in 1988. Baresi appeared 719 times in 20 seasons for the Biocanerris winning six Serie A,  three European Cup and Cup Winners respectively. Upon his retirement, Milan retired the no.6 shirt.
Paul Scholes [Manchester United]
Without doubt, Scholes is a household name in British football and in Europe. As a  product of Manchester United's Youth Academy, made a name for himself at Old Trafford . His class, vision, long pass ability and his fierce shots saw him talked about as one of European football's great midfielders of all time. The English international appeared 718 times for the Red Devils, winning 11 Premier League titles and two UEFA Champions Leagues as well as two League Cups and three FA Cups.
Tony Adams [Arsenal]
Tony Adams is another household name in English football. The former England centre-back is popularly known as 'Mr Arsenal', such was his contribution to the history of the Gunners. He ran out for them 672 times, spending 18 seasons in North London. He's that revered by Arsenal fans that he has a statue in his honour outside The Emirates Stadium.
Carles Puyol [Barcelona]
Carles Puyol is a product of the famous La Masia who started his professional career as a right-back. His Barcelona debut came under Dutchman Louis Van Gaal in 1999. Puyol was a veteran defender known for his strong and commanding displays. He  was the captain that led Barcelona to the much awaited Champions League glory in 2006, fourteen years after they last worn it. Puyol played 593 competitive matches scoring 18 goals in 15 years for the club. Puyol won 6 La Liga, 2 Copa del Rey,  5 Supercopa de Espana, 3 UEFA Champions League,  2 UEFA Super Cup and 2 FIFA Club World Cup as a Barcelona player before retiring in 2014.
Francesco Totti [Roma]
Italian Serie A is known for producing loyal and iconic players. This time around our attention is on AS Roma's greatest footballer, Francesco Totti.
He made his senior debut for the club aged 16 and went on to represent them till his early forties. Totti once said "When you are a kid in Rome, there are only two possible choices: You are either red or blue."  He is known for his dazzling skills, long range shots, goal scoring abilities, technicality and set pieces. Throughout his career, Totti played as classic number 10. He played 786 times and scored 307 goals in all competitions for Roma. He won one Serie A title, two Coppa Italia and two Supercoppa Italiana. Individually; he won the Golden Foot (2010) Award and one Serie A golden Shoe (2006). He was also named Serie A player of the year four times, Guerin d'Oro amongst others.
Ryan Giggs [Manchester United]
There are numerous one-club footballers in English football, but none has served as Ryan Giggs had done in the shirt of the Red Devils.  He came through the ranks at Old Trafford having joined as 14 years old, his professional debut came in 1991 signalling the commencement of a long and fruitful career. Giggs played 963 games for Man United during which time he won 13 league titles, 4 FA Cups, 2 UEFA Champions Leagues and 1 FIFA Club World Cup. He is the all time assist maker in the English top division. He is the most decorated individual in the English game, and he did it all with United.
Paolo Maldini [AC Milan]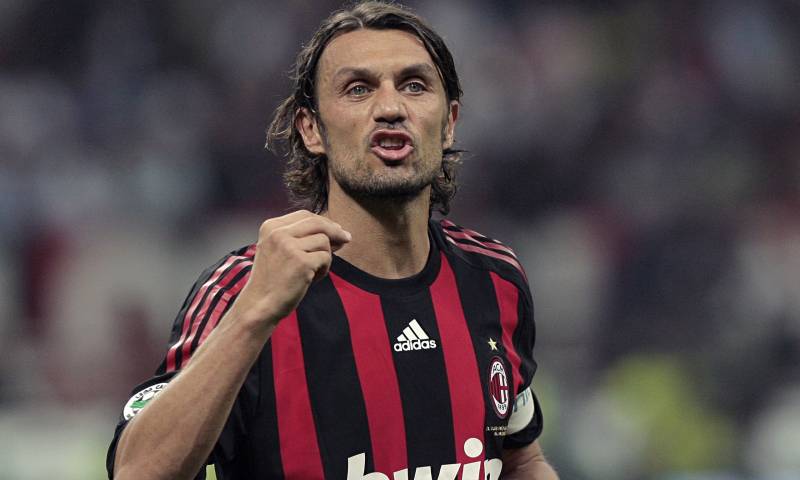 The name Maldini will always ring the bell in the world of football. A veteran left back, Maldini is arguable the best defender Italian football has ever produced. The former AC Milan and Italy international made his mark in the world of soccer with his dazzling displays and leadership quality at the heart of the defense. As a player, he won every available trophy for the Azzuris and even followed the footsteps of his father, Cesare, by leading AC Milan to European Cup glory. In honor of his service and contribution to the club, AC Milan retired his no.3 shirt when he retired, while Baresi says Maldini is Italy's greatest player, calling him an 'outstanding defender.' With that high praise he gets top spot. He played into his forties and appeared 902 times winning five European cup trophies, seven Italian league titles.